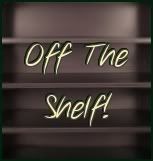 So I saw this challenge on The Reader Room and it sounded like just the thing for me! I love buying books, even though when I haven't read over half of the books I own now, because I love pretty covers and I just can't leave a good story on the shelf.. So I end up buying more than I can read - or my book closet can store, really! I've signed up for the challenge so I actually end up reading the books in my closet!
I already have a page on this blog where I list my to-read books (
The Reading Pile
) but I thought this would give me a bigger kick in the butt.
Since I've already signed up for the Debut Author Challenge 2011 at
The Story Siren
, I've decided to go for reading 30 books I already own: Making a Dint. That's already a total of 42 books to read next year!
So here's my list so far (I have books coming in the next couple of weeks which I hope to include as well):
1.
The Book of Tomorrow by Cecelia Ahern
2.
Night World 01
by L.J. Smith
3.
Night World 02
by L.J. Smith
4.
Night World 03
by L.J. Smith
5.
Eragon
by Christopher Paolini
6.
The Sorceress
by Michael Scott
7.
Physik by Angie Sage
8.
Queste
by Angie Sage
9.
Weg van Lila
by Patrick van Rhijn (Dutch)
10.
My Sisters Keeper
by Jodie Picoult
11.
The Dragon Keeper
by Robin Hobb
12.
Playing With The Grownups
by Sophie Dahl
13.
The Alchemist
by Paul Coelho
14.
Chasing Harry Winston
by Lauren Weisberger
15.
Syren
by Angie Sage
16.
Percy Jackson and the Lightning Thief by Rick Riordan
17.
Percy Jackson and the Sea of Monsters by Rick Riordan
18.
Percy Jackson and the Titan´s Curse by Rick Riordan
19.
To Kill a Mockingbird
by Harper Lee
20.
Marked by P.C. Cast and Kristin Cast
21.
Betrayed by P.C. Cast and Kristin Cast
22.
Chosen
by P.C. Cast and Kristin Cast
23.
Untamed
by P.C. Cast and Kristin Cast
24.
Need by Carrie Jones
25.
Beautiful Creatures
by Kimi Garcia & Margaret Stohl
26.
Hunger by Jackie Morse Kessler
27.
Thirst no 1
by Christopher Pike
28.
Animal Farm
by George Orwell
29.
The Vampire Diaries: The Return - Shadow Souls
by L.J. Smith
30.
Evermore by Alyson Noël
31.
The Magician by Michael Scott
That´s a pretty big list already.. I need to keep myself from reading those while picking new books to read lol! The challenge starts at January 1st, 2011 so I still have a month to go.. The last two books are not entirely unread: I read Animal Farm about 10 years ago and didn't understand it and I started in Shadow Souls, but I was unable to finish so I'll be picking it up in 2011 again.
I will be adding books (and maybe even changing titles) during the next couple of weeks. This is my draft list, so to say. Wow, that are the books I *have* to read! I'm looking forward to it, I might not even be able to wait to begin with in the upcoming month.. Maybe I should re-read my Harry Potter books to keep me busy haha!
Are you joining in? If so, how many books are you planning on reading?